Nostalgia CD recording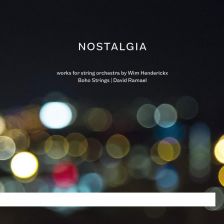 In February 2018 David Ramael recorded a new CD 'Nostalgia' with Boho Strings. This CD groups all of the works for string orchestra by Belgian composer Wim Henderickx. Antarctica Records released the CD worldwide in January 2019. Since then the CD has received unanimously positive reviews in the international music press. Below are some excerpts from these reviews (or click to read the full review):

Gramophone Magazine writes "The number of string ensembles active may be considerable but Boho Strings is second to none in terms of its dynamism and unanimity of response."
BBC Music Magazine awarded the album 4 out of 5 stars and included the title track on the playlist of the Week.
De Standaard awarded the album 4 out of 5 stars.
The Arts Desk writes "Performances are magnificent, David Ramael's Boho Strings sounding stark and sumptuous by turns, and the three soloists impress."
You can order the CD on iTunes or from various retailers worldwide.